True anatomy visualizations. Not modeled.
CREATED USING

REAL PATIENT ANATOMY
BodyViz visualizes real human and veterinary anatomy into interactive, 3D volumes using actual patient MRI/CT Scans. Our library containing over 1,000 scans allows instructors to virtually dissect and visualize anatomical concepts in 3D, just as they would in the cadaver lab.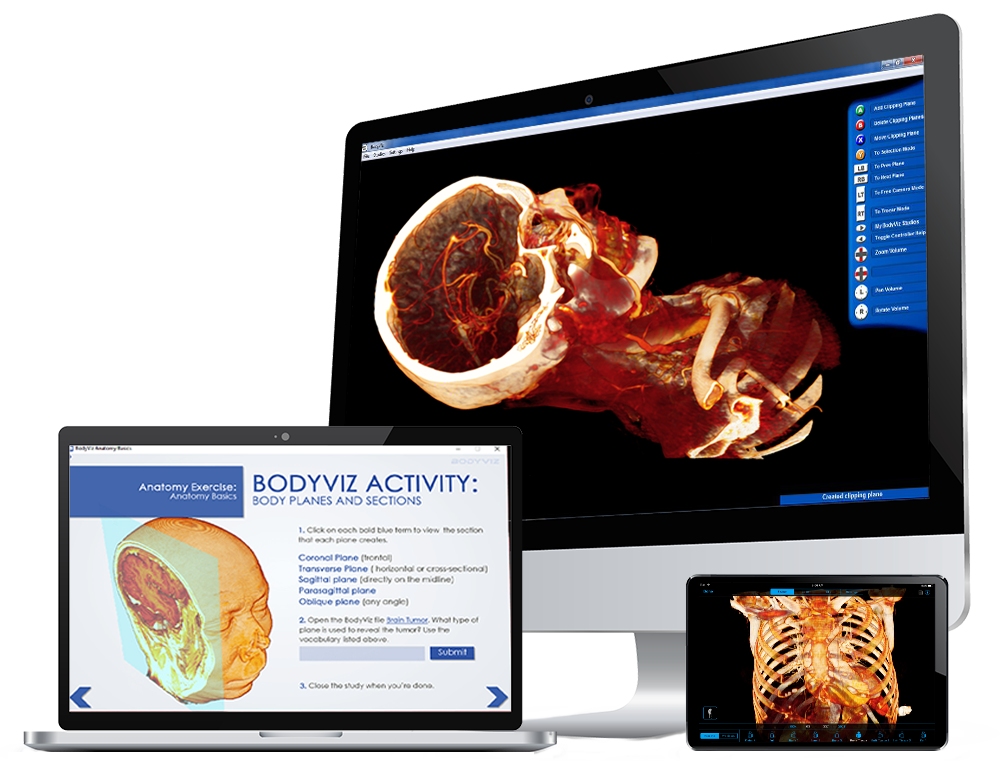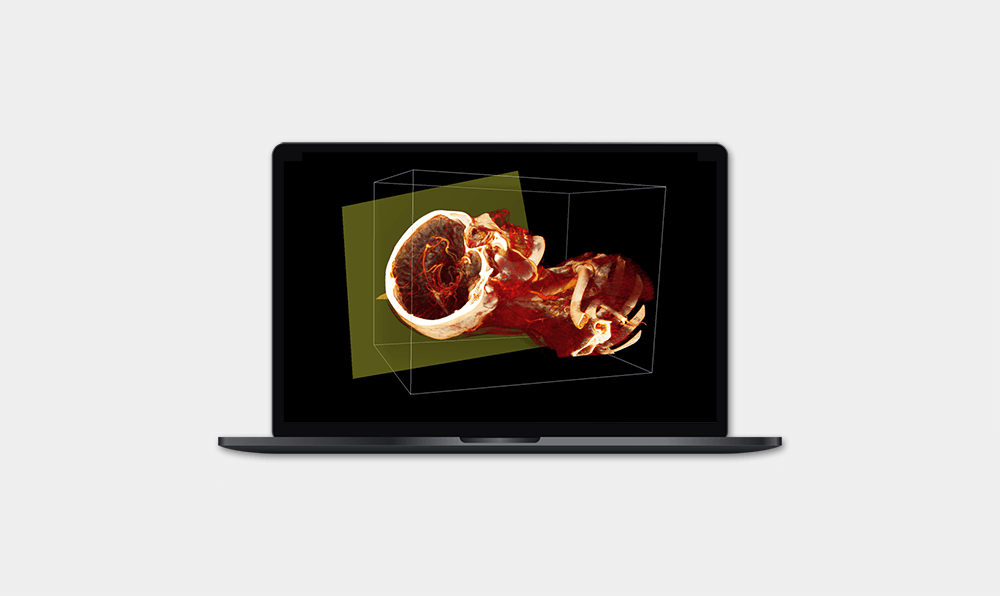 Student License
Each of your students will receive a 3D Anatomy Software license to download directly to their computer, creating a virtual cadaver lab at their fingertips. With this software, students will be able to:
Interact with real human and veterinary anatomy in 3D

Perform non-destructive virtual dissections

Peel back individual tissue layers

Highlight specific features with active coloring modes
Instructor License
Each anatomy instructor will also receive a Pro 3D anatomy software license, which includes advanced software features that empower instructors with a creative content suite. With these advanced features, instructors will be able to:
Download 1000's of 3D anatomical studies within our library

Create detailed annotations within anatomy

Save BodyVizFiles for use in lecture and lab

Ability to upload MRI/CT scans in a matter of seconds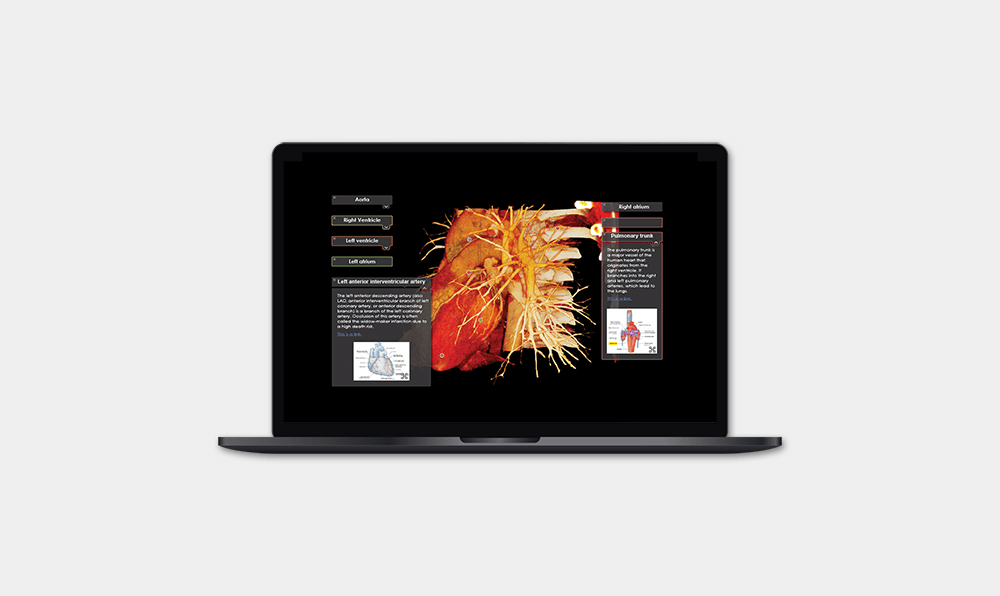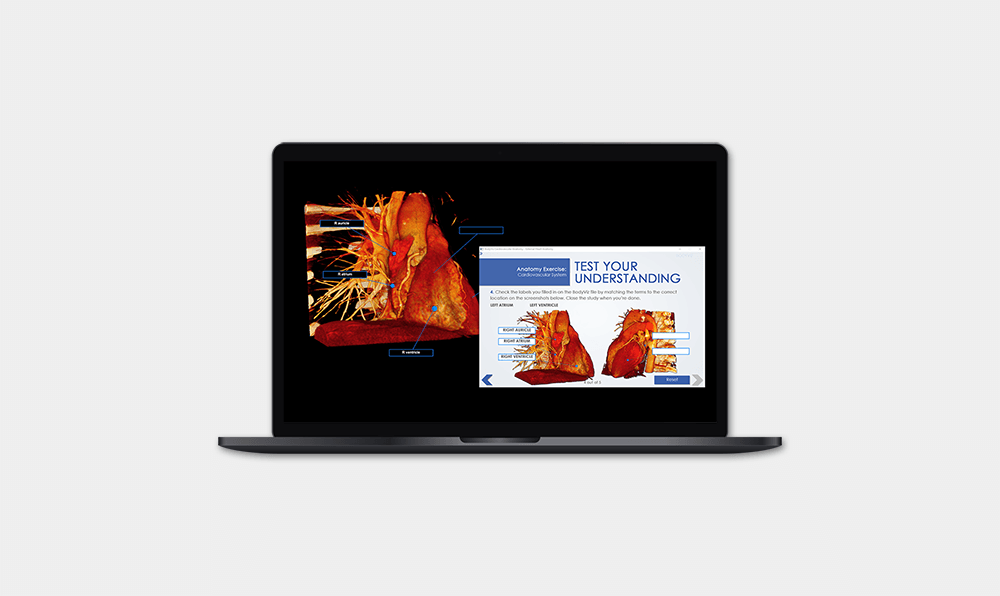 Active Learning Modules
The ALMs work in conjunction with our 3D anatomy software, providing students a suite of structured lab activities following a systemic approach as outlined in the HAPS curriculum. Each lab includes step-by-step instructions for students to perform the virtual dissection and identification activities within BodyViz software, making it easy for students to complete their assignments while promoting interactive, collaborative learning experiences.
Review and Assessment Modules
The Review Modules engage students with interactive, ungraded activities developed to strengthen their understanding of the course material. When students feel ready, they will then complete the quizzes in our Assessment Modules, which are automatically graded making it easy for instructors to track individual performance and progress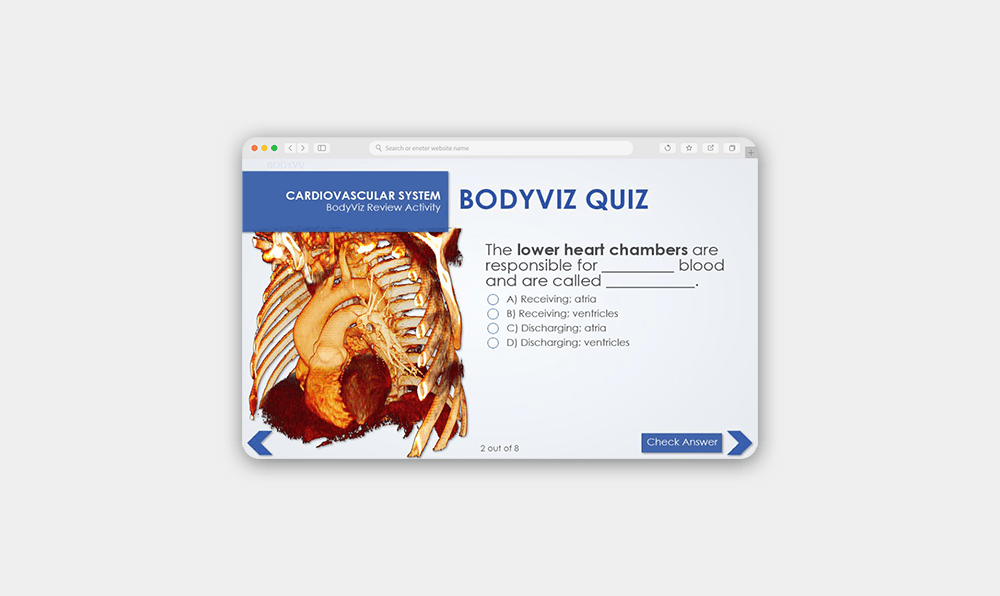 Looking at a real human body is not something that was accessible for our students. BodyViz is the only way they are able to see the real human body and how all of the different structures work together. Southwest Texas Junior College
BodyViz was a better fit for us because of accessibility. Instructors in 8 rooms and 750 students using iPads all have access to BodyViz at the same time. Notre Dame High School
Not only is BodyViz important for our current class, it is key to preparing our students for what they will see in their clinicals and rotations. BodyViz is providing our students with a different level of education that will provide a sound foundation for their future studies. Creighton University School of Medicine
Free eBook
The Anatomy Educator's Guide to Online Learning
Download a copy of our eBook filled with strategies to help you deliver high-quality anatomical experiences in your online courses.
In this eBook, you'll learn about:
Replacing cadaver lab experiences for online learning

Updating your existing instructional materials

Providing your students with clear direction

Contingency planning for future educational disruptions.
Let's Get Started
Schedule an Online Demonstration with Our Team!
The BodyViz Team is here to help you simplify anatomy education for your students, whether you are teaching in-person, online, or in a hybrid format. BodyViz easily integrates into existing anatomy courses, and does so in a very cost-effective manner. Fill out the form below and our team will contact you to schedule your demonstration!