Free eBook: Getting Back to Normal with Interactive Anatomy Activities!
What's Inside?
Download a copy of our eBook which is filled with creative and ideas to help you increase the interactivity and engagement of students in your classes.
In this Free eBook, we cover:
The results from a 2021/2022 reflections on the school year and hopes for 2022/2023 survey we sent out to anatomy instructors like you!

Ideas to facilitate heads-on learning in your anatomy classroom

3 Questions to help you decide how you could use 3D dissection in your classes

How to Connect with the BodyViz Team to create a customized solution for you!
Fill our the form below to get your copy of the eBook sent to your inbox!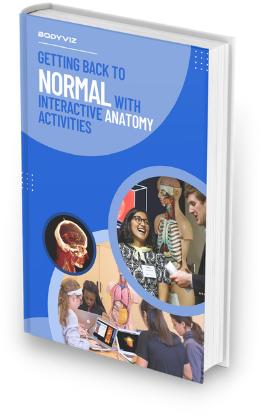 Fresh Ideas for How to Spice up Your Anatomy Class
We wanted to hear about the highs and lows of the 2021/22 school year, so we got the inside scoop from other anatomy instructors just like you in a survey to 80,000+ instructors. We also gathered new ideas you can implement in your classes to spice things up for the 2022/23 school year. You will not want to miss out on reading through this eBook and also sharing it with your peers.
This eBook is a reflection on the post-pandemic school year with how the COVID-19 Pandemic has changed Anatomy education forever and some tips we have collected from other anatomy instructors that you can implement into your classes. Fill out the form below and we'll email your copy of the eBook for free!