Virtual Anatomy
Labs
Customizable 3D virtual anatomy labs for any environment
Any Environment. Any Location.
TRANSFORM

YOUR ANATOMY ENVIRONMENT

Whether you are enhancing your existing environment, or building a brand new lab, our 3D virtual anatomy solutions make it easy for instructors to create an engaging, interactive environment for students. Ranging from a single software license, all the way up to one-on-one virtual anatomy labs, our team is here to work with you to create the anatomy lab your students deserve. Enhance Traditional Learning Environments
Using computers, projectors, and display panels, BodyViz transform traditional learning environments into a collaborative, interactive learning space. Instructors present anatomical concepts at the front of the class using the projector screen, while students work together in small groups at each of the wall-mounted BodyViz stations.
Supplement Anatomy and/or Dissection Lab Experiences
BodyViz reinforces and enhances lab experiences with non-destructive, repeatable virtual dissection. With over 1000 3D anatomical studies in our library, students can explore examples of both normal and abnormal anatomy that is rarely found in the cadaver lab.
One-to-One Virtual Anatomy Labs
Repurpose computer labs to provide your students their own individual virtual dissection platform. Instructors can present at the front of the room while students follow along individually on their computers.
We Customize Solutions to Your Needs
Have a different idea in mind for your anatomy lab? No problem! We customize each solution to meet the individual needs and goals for each instructor. In the image provided, this professor created a mobile anatomy lab that can be wheeled into his various classrooms, depending on where students are meeting each day.
Follow the link below to view more examples of 3D virtual anatomy labs our team has helped create in the past.
BodyViz was a great fit for us compared to a virtual dissection table because of accessibility. For the cost of one table, instructors in 8 rooms and 750 students can all use BodyViz at the same time using iPads. Notre Dame High School
BodyViz was a better fit for us because it isn't confined to a table and can adapt to all of our anatomy courses in any environment. Blue Mountain College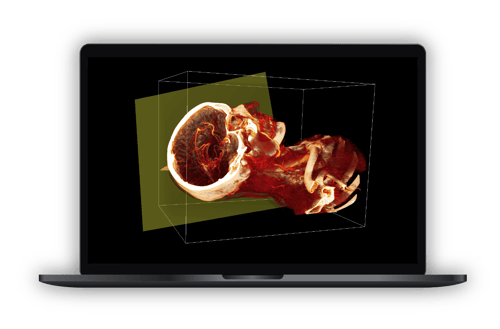 Easy-to-Use Virtual Dissection Platform
3D Anatomy Software
BodyViz helps students understand and interact with anatomy by putting them in the middle of the learning experience. Our 3D anatomy software creates a virtual anatomy lab that your students can take with them wherever they go. Students can dissect, visualize, and study the human body in an interactive and engaging manner, helping them comprehend the material and learn to how use it in the workplace.
Real Human & Veterinary Anatomy
Student and Instructor Licenses
Want to use 3D anatomy in your courses?
Schedule a 30-minute Online Demonstration
Our team at BodyViz is here to help you simplify anatomy education for your students, whether you are teaching in-person, online, or in a hybrid format. BodyViz easily integrates into existing anatomy courses, and does so in a very cost-effective manner. Fill out the form below and our team will contact you to schedule your demonstration!